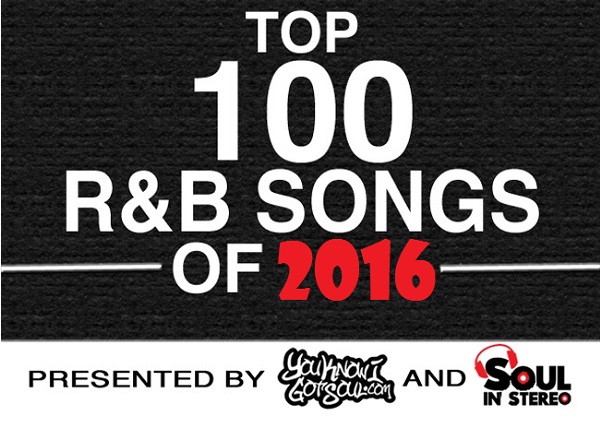 The end of 2016 is upon us, so that means we're once again ready to kick off our year end countdown in partnership with SoulInStereo.com. We've done this countdown each of the past few years where we reveal ten songs from the top 100 each day.
Just to give some background, this Top 100 R&B Songs of 2016 list is a culmination of votes tallied by Tom and Kyle of YouKnowIGotSoul, and Edward Bowswer of SoulInStereo. Each of us have listened to just about every r&b release this year, and then fiercely debated what belongs in the top 100. This is what we ended up with.
We've debated throughout the year whether this was an acceptable year for r&b or one of the slower ones in recent memory. This list gives evidence that that there were plenty of great songs released over the course of the year, and many of them ended up being album cuts not released as singles. We encourage you to listen to anything you're not familiar with on the countdown, and have our assurance that you will most likely find it dope.
In case you missed it, you can also check out our Top 10 R&B Albums of 2016 list as well.
So without further ado…
99) Brian McKnight – Like I Do
98) Jaheim – If I Were You
94) Phonte & Eric Roberson – Never the Same Smile
89) Ro James – Last Cigarette
87) Keith Sweat – Get It In
84) Bruno Mars – Too Good To Say Goodbye
82) Monica – Call My Name
79) August Alsina – Dreamer
74) NAO – Happy
72) Tweet – Priceless
70) Solange – Don't Wish Me Well
67) Jaheim – Keep
66) Keke Wyatt – Still Have Love
64) Keith Sweat – Pulling out the One
59) NAO – Adore You
57) Gallant – Bourbon
56) Dave Hollister – One Great Love
51) Keke Wyatt – Anything
50) H.E.R. – Focus
44) Phonte & Eric Roberson – 3:45
41) Phonte & Eric Roberson – Thru the Night
39) Solange – Borderline
38) Yuna – Best Love
37) After 7 – Too Late
35) Musiq Soulchild – Walk Away
34) Monica – Deep
32) Joe – No Chance
28) K. Michelle – If It Aint Love
27) Craig David – What If
24) H.E.R. – U
22) Keke Wyatt – If It Aint You
20) Alicia Keys – She Don't Really Care
19) Bruno Mars – Calling All My Lovelies
12) Mya – One Woman Man